Guardian: "Rich countries are subsidising oil, gas and coal companies by about $88bn (£55.4bn) a year to explore for new reserves, despite evidence that most fossil fuels must be left in the ground if the world is to avoid dangerous climate change."
"The most detailed breakdown yet of global fossil fuel subsidies has found that the US government provided companies with $5.2bn for fossil fuel exploration in 2013, Australia spent $3.5bn, Russia $2.4bn and the UK $1.2bn. Most of the support was in the form of tax breaks for exploration in deep offshore fields.
The public money went to major multinationals as well as smaller ones who specialise in exploratory work, according to British thinktank the Overseas Development Institute (ODI) and Washington-based analysts Oil Change International.
Britain, says their report, proved to be one of the most generous countries. In the five year period to 2014 it gave tax breaks totalling over $4.5bn to French, US, Middle Eastern and north American companies to explore the North Sea for fast-declining oil and gas reserves. A breakdown of that figure showed over $1.2bn of British money went to two French companies, GDF-Suez and Total, $450m went to five US companies including Chevron, and $992m to five British companies.
Britain also spent public funds for foreign companies to explore in Azerbaijan, Brazil, Ghana, Guinea, India and Indonesia, as well as Russia, Uganda and Qatar, according to the report's data, which is drawn from the OECD, government documents, company reports and institutions.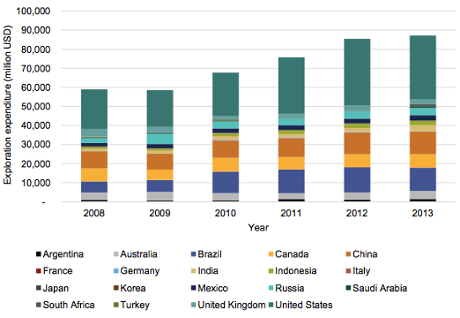 Oil and gas exploration expenditure in G20 countries (public and private). Photograph: ODI/Rystad Energy
The figures, published ahead of this week's G20 summit in Brisbane, Australia, contains the first detailed breakdown of global fossil fuel exploration subsidies. It shows an extraordinary "merry-go-round" of countries supporting each others' companies. The US spends $1.4bn a year for exploration in Columbia, Nigeria and Russia, while Russia is subsidising exploration in Venezuela and China, which in turn supports companies exploring Canada, Brazil and Mexico.
"The evidence points to a publicly financed bail-out for carbon-intensive companies, and support for uneconomic investments that could drive the planet far beyond the internationally agreed target of limiting global temperature increases to no more than 2C," say the report's authors.
….The report is important because it shows how reforming fossil fuel subsidies is a critical issue for climate change.The report further criticises the G20 countries for providing over $520m a year of indirect exploration subsidies via the World Bank group and other multilateral development banks (MDBs) to which they contribute funds.
The authors expressed surprise that about four times as much money was spent on fossil fuel exploration as on renewable energy development."